At last, bestselling author, top product creator, award winning musician and professional speaker, Dr. Joe Vitale releases his much anticipated NEW hypnotic moneymaking program on DVD:


Finally, captured on DVD: Here are never before revealed hypnotic secrets of professional speaking, delivering INSTANT FAME and OUTRAGEOUS FORTUNE …
Simple techniques to infuse hypnotic power into every talk …
Stealth hypnotic persuasion skills to sell like crazy …
Unlock opportunities for advancement and promotion in your career …
Command "Rock Star" confidence to work a crowd like a pro …
Be the memorable speaker they invite BACK …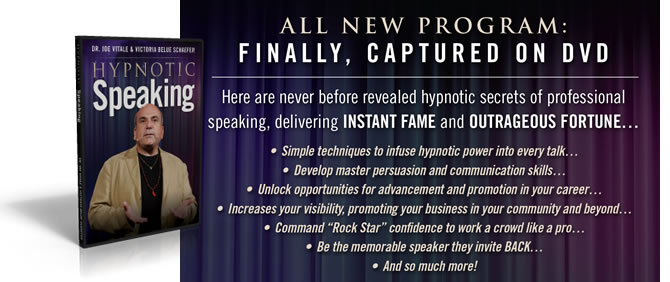 Fellow Entrepreneur and Future Hypnotic Speaker,
"There is nothing in the world like a persuasive speech to fuddle the mental apparatus and upset the convictions and debauch the emotions of an audience not practiced in the tricks and delusions of oratory." --- Mark Twain
In one hour – you too can possess this extraordinary knowledge!
CLICK HERE for YOUR copy of Hypnotic Speaking
What's the hypnotic secret to delivering electrifying speeches and riveting presentations?
Speakers entertain, inform and influence – to be effective your message must be hypnotic!
Whether you're sounding the key note for a Fortune 500 – your local Rotary, Chamber of Commerce or networking event – you want your audience captivated, hanging on your every word.
Perhaps you're presenting on the job to a room packed with bosses, customers and your closest professional allies and friends …
You need an edge.
Maybe you've been given an opportunity to speak at a networking event; this is your moment. How will you respond?
For greater impact, you want to add a hypnotic dimension to your speaking.
And that's just what I'd like to help you do. Hi, I'm Joe Vitale, you may recognize me from the hit movie and personal development phenomenon, "The Secret." I'm a bestselling author of over 30 books, including There's a Customer Born Every Minute … Zero Limits and The Attractor Factor – and I've produced top rated audio programs for Nightingale-Conant, such as "The Power of Outrageous Marketing" and "The Secret to Attracting Money." Most recently I've taken the indie singer/songwriter world by storm with my latest independently produced album, "Sun Will Rise."
These accomplishments have generated untold numbers of speaking engagements.
CLICK HERE for YOUR copy of Hypnotic Speaking
Give me one-hour, and I'll give you the very same hypnotic speaking techniques I use to engage an audience – every time I speak!
What are the keys to hypnotic speaking? How will you capture and hold a savvy, enlightened crowd – ultimately persuading them to buy your product, service or idea? Many of these secrets of hypnotic speaking I've shared with NO ONE – until NOW!
They are the secrets that have placed me in front of thousands, including the toughest audience of all, the National Speakers Association!
This is not the same ol' tired formula:
Tell 'em what you're gonna tell 'em
Tell 'em
Tell 'em what you told 'em
Doors (previously shut tight) swing wide open with new opportunities. Rewards are abundant – when you deliver. If this is your moment, you might only get one shot.
Can you picture your future when you're able to effortlessly command the attention and respect of a room - speaking to a group with absolute confidence and ease?
Your future looks brighter doesn't it?
Now imagine your one shot at public speaking mastery is sabotaged because you can't get your audience's attention to even begin – and once you start, it's downhill from there …
Not the same future is it?
The ability to speak hypnotically is one of the highest valued business skills. It can earn you a fortune, turn you into an instant celebrity and place you into a position of power and influence.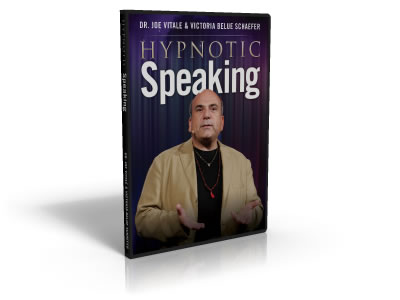 CLICK HERE for YOUR copy of Hypnotic Speaking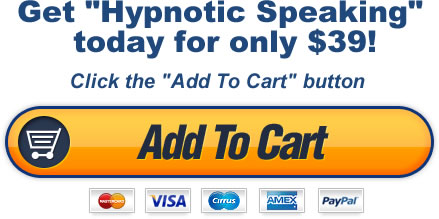 Here are just a few of the awesome benefits you'll derive from learning to speak hypnotically:
Develop master persuasion and communication skills …
Puts you on the career fast-track, creating opportunities for advancement …
Increases your visibility, promoting your business in your community and beyond …
Brings confidence, giving you an edge, both personally and professionally …
Makes you a memorable speaker … enhancing your reputation as a pro …
CLICK HERE for YOUR copy of Hypnotic Speaking
To see that you get these powerful moneymaking benefits of hypnotic speaking, I sat down with media and presentations specialist, Victoria Belue-Schaefer for an eye-opening and revealing question and answer session.
Victoria, owner of Pedalranch.com, herself an accomplished speaker and TV personality asked the kind of thoughtful, probing questions you'd ask, if you wanted to know exactly how I do what I do.
Together we brought to light NEVER BEFORE REVEALED secrets of hypnotic speaking and how to captivate an audience – delivering your most powerful and persuasive messages!
Best of all – this conversation was RECORDED on high-quality VIDEO and is available NOW on DVD!
When I watched the playback I couldn't believe what I shared!
Victoria's engaging smile, insightful questions and easy manner kept me talking and sharing and spilling my closest held "personal" secrets for a solid hour – PACKED to overflowing – I didn't want to stop!
CLICK HERE for YOUR copy of Hypnotic Speaking
HERE'S A PEEK into what was revealed during that hour:
How to use the magic of hypnotic speaking to captivate an audience – holding them spellbound – hanging on every word!
What was Mark Twain's secret prop – hypnotically communicating that what he was about to say was of the utmost importance? You could do this today!
Bust through your audience's defenses with this technique - gets through the radar!
How are hypnosis, hypnotherapy and hypnotic speaking alike – and how do they help us communicate with and persuade the hidden drivers of our life?
What are four simple techniques for capturing your audience's attention – INSTANTLY – including the ONLY kind of question you should ever ask?
How this gutsy 60-secret technique captures attention. WARNING: Not for the squeamish!
How to use this simple copywriter's trick to bribe your audience to pay attention to your every word.
Capturing attention is important – but what do you do if you lose an audience momentarily? How to get your listeners BACK ON TRACK – FAST!
The advice I've never before revealed, that my Boy Scout Leader taught me about managing your crowd!
This simple sentence from my copywriting days will instantly refocus your audience – all eyes (and ears) on YOU!
What's the power of a self-trance, including the secret of self-talk, giving you rock-star confidence to deliver your message to a starving crowd?
What to do when it all goes wrong!
What was this iconic evangelical preacher's mesmerizing secret of using the stage to hypnotically program his audience?
Effective speakers are high-energy all the time, right? Wrong! How politicians leverage cadence to keep their audiences in rapt attention.
What are the two kinds of waking states in hypnosis – and how are they important to keeping an audience's attention?
What's the ultimate secret behind buying trances – and how can we use them in our hypnotic speaking? Don't overlook this - incredibly powerful!
Is hypnotic speaking an UNFAIR manipulation?
It's true we're under a steady barrage of marketing messages everyday – so why do so FEW of them ever get through – what's MISSING that you can turn to your advantage and GET HEARD?
Another never before revealed secret: The lesson from Gospel Evangelists on being totally fearless – how they got that way – and how YOU can too.
CAUTION: Be careful what you introduce on stage! The power of imprint to create memorable experiences both good and bad – and the lesson of Mad Money star Jim Cramer's shirt sleeves.
What simple thing to do to increase your odds of getting heard – better start thinking today!
Never before revealed secret of the status war and how to use it to get people to trust you – Trump does it … so should you.
Breaking the rules: Selling product; always be closing … or always be WHAT?
Plus, my stealth technique for hypnotically promoting products from the speaking floor that completely flies under the radar. You can do this, even if the rules don't allow you to sell from the platform!
Finally, maximize the power of a hypnotic environment to vanquish distraction and deliver your transformative message with impact!
… All that in ONE HOUR!
CLICK HERE for YOUR copy of Hypnotic Speaking
I felt like I was in one of my $5,000 Phantom Rolls Royce masterminds J
Fortunately for you, these secrets of Hypnotic Speaking have been recorded on DVD for your convenience, easy access and mastery.
Discover for yourself my most powerful techniques for holding an audience spellbound. Watch as I give up never-before-revealed secrets empowering you to …
Communicate persuasively with rock-star confidence …
Fling wide open the doors of opportunity previously shut tight …
Skyrocket to the top of your profession and career …
Promote your business, cause or personal mission like a master …
And yes – earn a king's fortune in the process!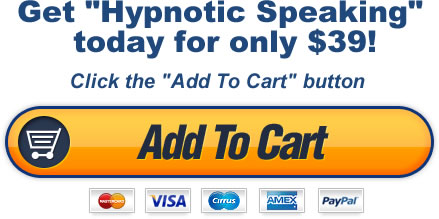 But wait … THERE IS MORE WEALTH HEADED YOUR WAY!
On this DVD, I've included bonus footage of me speaking and demonstrating some of the hypnotic speaking techniques you'll discover in our interview session. You know a picture is worth a thousand words …
And get this … I'm including, absolutely FREE as my gift to you for ordering, The Psychology of Public Speaking – written over 100 years ago – this incredible volume contains wisdom you won't hear from the latest so called internet marketing guru peddling their rehashed wares – it's powerful heady stuff.
Plus, I'm tucking in a surprise digital copy of some groundbreaking work I prepared on using Hypnotic Language.
Let's see, so that's the Hypnotic Speaking DVD with the Bonus Speaking footage … the Psychology of Public Speaking … and a surprise edition of my own work on Hypnotic Language … all for the "ARE YOU KIDDING ME" super low price of …
Only $39 (plus shipping/handling)
That's it!
CLICK HERE for YOUR copy of Hypnotic Speaking
An incredible value for a professional speaker's key secrets of weaving hypnotic spells over an audience, generating the type of engagement resulting in standing ovations – invitations back – and ramped up moneymaking sales!
You can't even BUY a ticket to see most professional speakers for that!
And of course, you're 100% protected by my 30-day total satisfaction guarantee or your money back! For whatever reason, if you're not absolutely delighted - just return the DVD so I can put it in the hands of somebody who wants it – and you keep the bonuses with my compliments!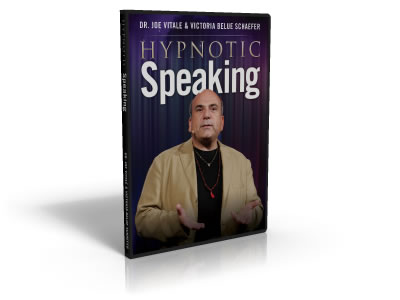 YES! Your satisfaction is 100% Guaranteed!
For 39 bucks do you even have to think about it?
Seriously, the no-brainer decision before you right now is to accept my generous offer, and start experiencing the intoxicating rush of holding an audience in the palm of your hand – really, there's nothing like it.
All you need to do is pop this DVD into your player … and my secrets of Hypnotic Speaking are yours.
Or you can do things the hard way. I guess there is something to the saying that "experience is the best teacher" – but does that mean YOU have to be the one to go out and fail over and over until you get it right?
I don't think so.
Let MY EXPERIENCE be your teacher.
The choice is yours.
So make Mr. Twain proud - get out your credit card – click on the BIG ORDER NOW button below – and get your copy of HYPNOTIC SPEAKING today!

Love,



Dr. Joe Vitale
Member BBB 2003 – 2013
A star in the hit movie The Secret
Bestselling author of Zero Limits
www.JoeVitale.com
PS: Improving your speaking skills is one of the quickest paths I know to fame and fortune. Many famous writers are known as much for their speaking as their written works, Charles Dickens for instance – even Mark Twain! If they WEREN'T speakers, I wonder if we'd even know they were writers?
And of course, I've already shared how my own success is owed a great deal to my command of hypnotic speaking. So don't put this off – your success is depending on it!
Get my DVD, Hypnotic Speaking, the free bonuses, The Psychology of Public Speaking, and my surprise volume on Hypnotic Language while it's still available - all for just $39. Order today!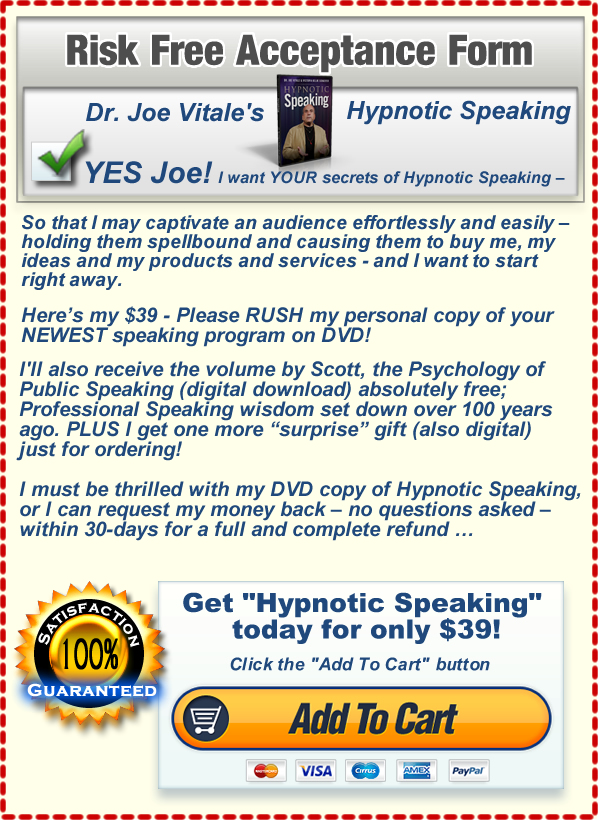 Check out Joe Vitale's previous healing music at the link below.

Note: "The Healing Song" is Copyright 2012 Joe Vitale and David Darling.

You may not sell it or broadcast it without written permission from the copyright owners.
It is offered for your personal use for entertainment purposes only.

Dr. Joe Vitale
www.MrFire.com
Member BBB 2003-
PS - For more information about Miracles Coaching®, please see http://www.MiraclesCoaching.com
Tell a friend and share this great site with others.
Dr. Joe Vitale, a star in the hit movie "The Secret," bestselling author of The Attractor Factor and Zero Limits, television guest star on Larry King Live and CNN, ABC, FOX, etc., is the world's first self-help singer songwriter.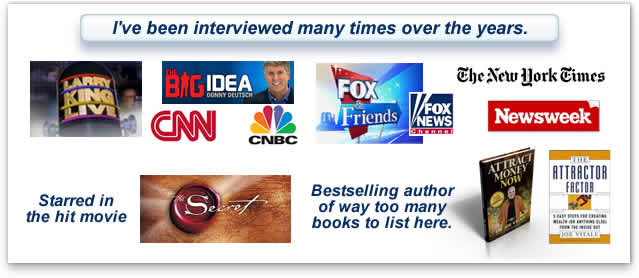 Media and Performance Requests Contact:
Email Joe's booking agent: Caroline@MrFire.com
or call 888-743-2824 opt 3
Services are provided by Acheive Today, Inc., which has been selected by Joe Vitale to provide education and guidance throughout your program.
© Copyright 2000 - Hypnotic Marketing, Inc., (All rights reserved)
Hypnotic Marketing, Inc., P.O. Box 2924 Wimberley, TX 78676-2924 - (888) 743-2824
Legal Disclaimer - Privacy Policy - Terms of Service

Customer Service: The Hypnotic Marketing Customer Care Center.
Give us a call at (888) 743-2824 option 2 or send us an email at Support@MrFire.com